Even though we still are not remotely close to the wedding, I find myself thinking about Thank You cards now. I wanted to do more rubber stamping with those to go with the invitation suites I am going to make, so I picked up a Thank You stamp to play with.
Though it was just quick playing around, with no real idea of what I wanted to do. My silver ink is kind of blotty it seems. I only remembered after using black that I had gold/silver inks, so I stamped over the black and it looks like some weird drop shadow. For my wedding thank you cards, I'd of course use a cardstock that matches our colors, instead of this dark red. The stamping I was just seeing how I could use up white space if I used 1/4 of the cardstock sheet instead of half as I did in the left card.
I added in purple to my boutonnieres though!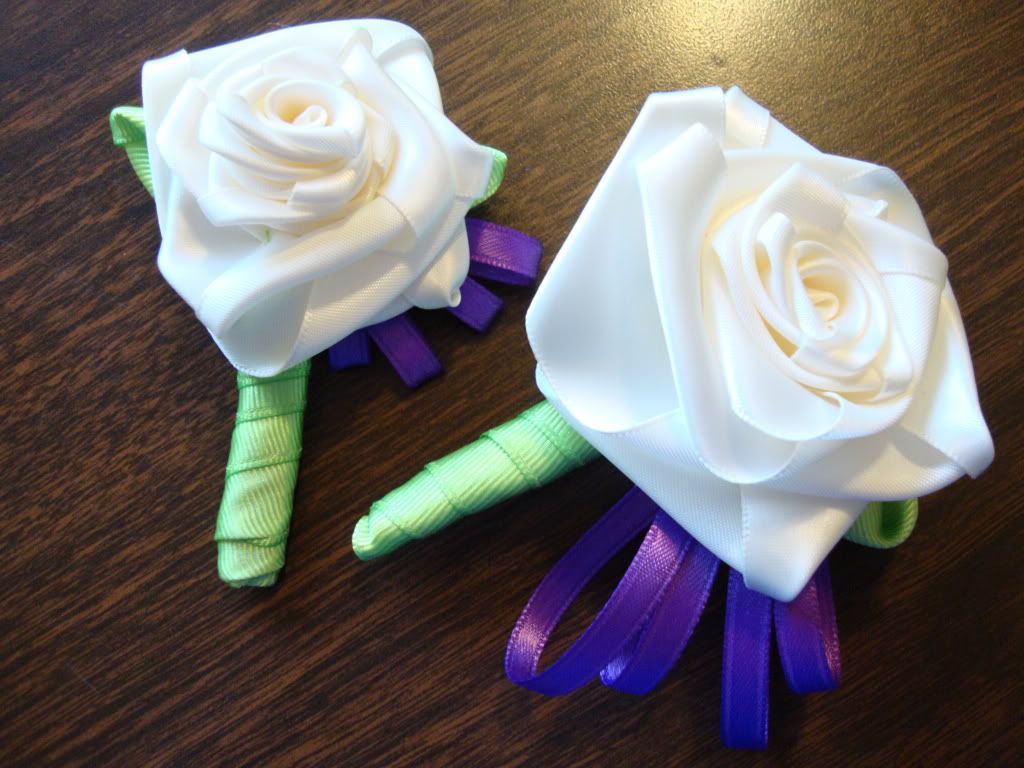 I'm probably going to remake my boutonnieres [and matching corsages, assuredly] with different ribbon because I won't be able to find any that matches the color I had for these and I need more than what I had. It's about one yard of ribbon to make one rosette and the spool I bought to play with was only three yards.
I did manage to stumble upon the wedding area of Hobby Lobby and found all the little bits and pieces for bouts and corsages and things. Little sparkly sprigs of happyface. I'm going to have to go back sometime, but I just can't decide what I want to work on first. I want to do anything and everything I can for my own wedding, because I want to put my own two hands to work on whatever I can. Except the cake. And dress. Those are the only two things I don't want to make. Maybe bouquets, too. I can't decide if I want fresh flowers or silk - I'm an immense packrat as it is, so either way...
Centerpieces, corsages, boutonnieres, appropriate gifts, invitations, thank you cards.... the list grows.